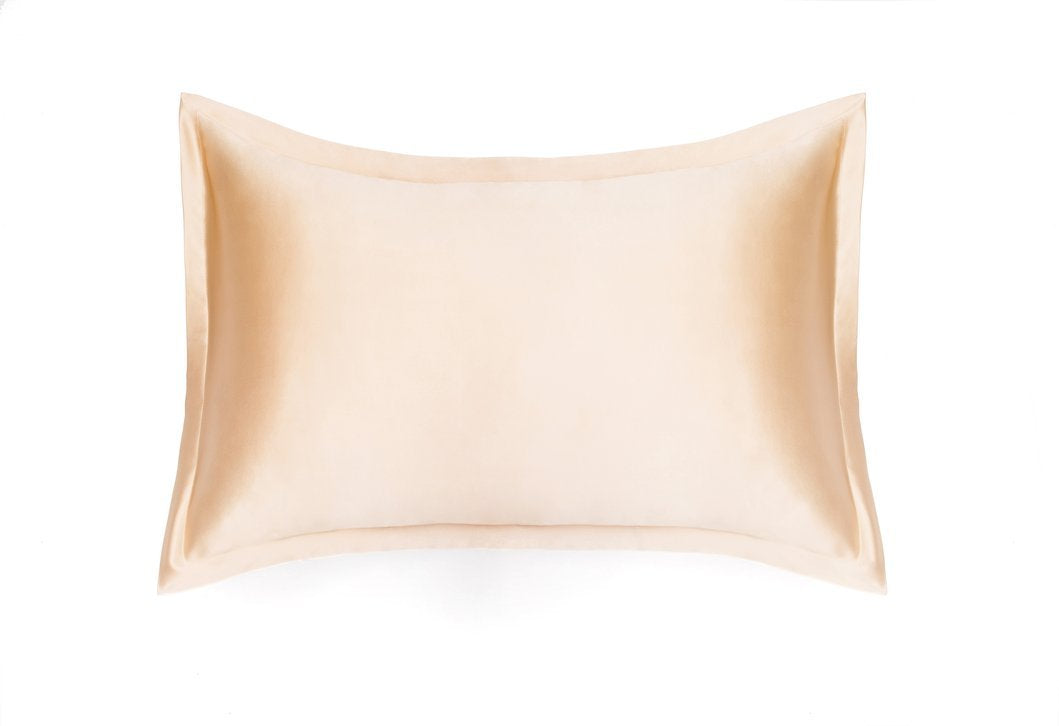 100% Natural Mulberry silk pillowcase JANE, model Oxford, color beige, 25momo
Regular price €55.00 Sale
Natural silk pillowcase Jane (model). Available in sizes 50x65, 50x70 and custom. You can submit the size of the individual pillow cover by e-mail. The fabric of the pillowcase CHARMEUSE is designed specifically for bedding and is washable both by hand and in the washing machine, unlike Italian silk, which is only suitable for dry cleaning and which is only suitable for clothes or accessories. According to the certificate, this silk is assigned 150 washes to complete wear, so the product is really long-lasting. Our pillow case is professionally sewn with double seam technology that prevents silk from falling apart. The pillow cover is closed with a high-quality and long-lasting YKK zipper. This fastening prevents the free silk from wrinkling and prevents the pillow from slipping out of the cover. The cover also looks more aesthetically pleasing to use. Each pillow case is packed in a luxury box :) 
Product information was submitted on March 3, 2020
 The name of the pillow case is inspired by the legendary French film Icon Jane Birkin and created for you to enjoy a comfortable and quality sleep. This cover is made of the highest quality 25 mom Mulberry charmeuse silk.

The enchanting silk texture in your bedroom is a great luxury accent. Fits both classic and modern interiors.

After a long day, the softness of the silk relaxes and allows you to fall asleep faster. The unique composition of silk contains many useful benefits to preserve your beauty and youth. 
No more tangled hair or sleep marks on the face. Silk is antistatic, antibacterial, it does not breed dust mites, mold, fungus. To preserve youth, it is very important to maintain a balance of moisture in the skin and hair. Silk absorbs less moisture from your hair and skin than cotton. You will no longer need to share your night cream or serum with a pillow. Sleeping on silk will eventually restore your hair and skin to a natural glow. Really so! bright skin and healthy hair while sleeping on silk!

The unique composition of silk maintains excellent heat balance and breathes well. Heats when cold and cools when hot. As a result, silk bedding is suitable for all seasons. 
Try and feel the difference!
MANUFACTURED SILK & SLEEP LITHUANIA